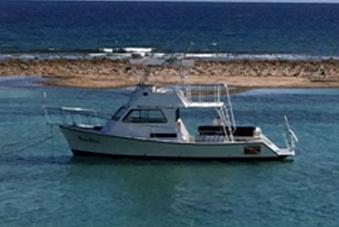 April 3, 2017 – "There is ice on the deck, we are freezing cold, and the conditions are rough." This was the message received by Liesel van der Touw from her husband and partner, Martin.
He and a crewmember were sailing the latest addition to the dive boat fleet for the Brac Scuba Shack, a Newton 36 Dive Special, to Cayman Brac from Slidell in Louisiana where it was purchased. The name of the boat is 'Brac Pearl', a rather fitting name for a vessel that would make its new home in the Caribbean.
After a very long journey dodging foul weather and unpleasant sea conditions, they finally arrived at Isle of Youth in Cuba. The next and final leg of the journey would be the sea passage across the Caribbean Sea to Cayman Brac and home.
The entire voyage clocked 1,476 nautical miles with most of it in cold and unsettled weather. Even though it was a rough trip, the crew and boat arrived safe and sound in Cayman Brac ready to start on a new chapter for Brac Scuba Shack.
'Brac Pearl' is equipped to take 20 divers, but this company only allows 10 divers at a time so as to ensure total enjoyment and safety without the pressure (no pun intended). There is a marine toilet (the heads) onboard and a fresh water hose to rinse the salt off after a dive. An added bonus is the water-level entry to make getting into and out of the water so much easier.
March has been a particularly busy month at the Brac Scuba Shack and, with an additional boat, it looks like it will get even busier in the very near future.
While it is still cold in the States, why not take the opportunity to fly over for a spring getaway and check out the new dive boat? You'll be so glad that you did.