Our mission is to provide top-quality service from qualified, friendly staff. Whether it is your first time experiencing the underwater splendor of Cayman Brac, or if you are an experienced scuba diver, we ensure that your diving vacation is a safe and enjoyable experience.
As a family-owned business, we understand the importance and value of a family vacation and we take utmost care to accommodate your family's needs.
Boasting crystal clear waters with amazing visibility, it is no surprise that Cayman has earned the reputation of being one of the top 10 diving destinations in the world. Known as home to some of the most incredible wall diving experiences, Cayman attracts even the most seasoned divers from across the world who come back time and time again to enjoy the incredible variety of spectacular dive sites and the myriad of colorful marine life. Cayman Brac offers over 30 incredible dive sites that are accessible from land and shore. Choose from the breathtaking colorful reefs in the shallower water, home to the most vibrant sea life, or the more challenging, but rewarding, wreck and wall dives.
No dive is ever the same, each one offes a unique encounter with a variety of sea life. Majestic eagle rays can sometimes be seen on a dive and they are often observed having jumping contests in the lagoon. Watch juvenile spotted drums skating figures-of-eight close to the surface and let's not forget our treasured sea turtles, unafraid to come up close to see their reflections in our masks.
Whether you are an advanced diver looking for a tour of some of the best diving spots, or a novice diver looking forward to your first diving experience, we invite you to join us and 'dive in' for an unparalleled personal encounter. Explore some of the world's most spectacular diving spots with our friendly and experienced team. Contact Us today to find out more and book an unforgettable diving vacation.
Truly, diving in Cayman Brac isn't so much about what marine life you will see, but about the experience you will have when you see it.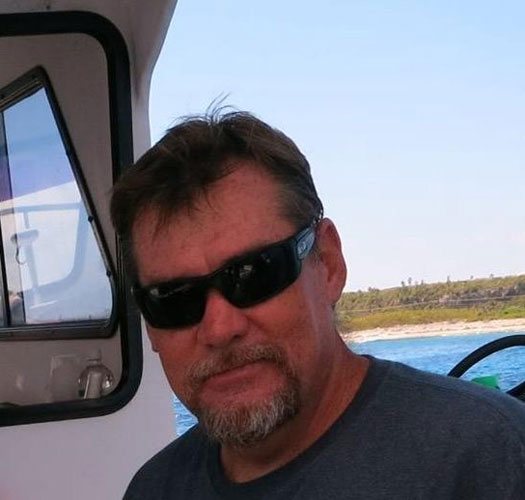 Martin van der Touw
Originally from South Africa, Martin discovered a passion for diving early in his career. While working for Mercedes Benz he realized that he did not have enough time to dedicate to what he loved most. He decided to combine his love of diving and a career and made the move to train as a dive instructor in 1992.
Read More
After meeting and falling in love with his wife, Liesel, who also shared Martin's passion for diving, the couple went on to manage a dive resort in Sodwana Bay, South Africa before making the life-changing decision to move to the Cayman islands. Martin loves the tranquility that Cayman Brac offers and is proud to call this little island paradise his home. He gets great pleasure from sharing the incredible variety and beauty of the Brac's underwater world with other diving enthusiasts. Martin's favorite dive site is Anchor Wall. You can read more about this incredible dive on the Wall and Wreck Diving page. His favorite sea creature is the Sergeant Major Fish, a large colorful fish that gets its name from its bright stripes.
Read Less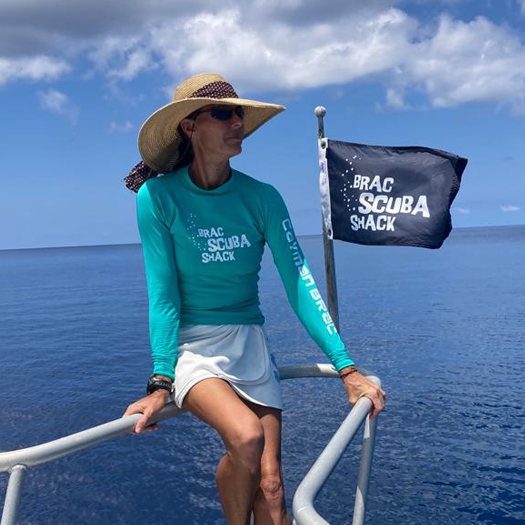 Liesel van der Touw
Also originally from South Africa, Liesel started her professional career in banking. After meeting her free-spirited husband and working together managing a dive resort in South Africa, Liesel welcomed the opportunity to travel and work in the Caribbean. After spending several years in the Cayman Islands, Liesel found herself drawn to the more remote island living found in Cayman Brac.
Read More
She loves the unspoilt underwater world as well as the incredible sense of community spirit. The lack of traffic and the quietness found on this tranquil paradise she fondly refers to as "this beautiful little rock" is an added bonus. Liesel has been qualified as a PADI professional for over 20 years and considers what she does a true privilege. She enjoys sharing the breathtaking underwater marine life with their guests. Liesel's favorite dive spot is Wilderness Wall, which you can read about on the Wall and Wreck Diving page. Her favourite sea creatures are the odd-shaped critter families found in the deeper waters.
Read Less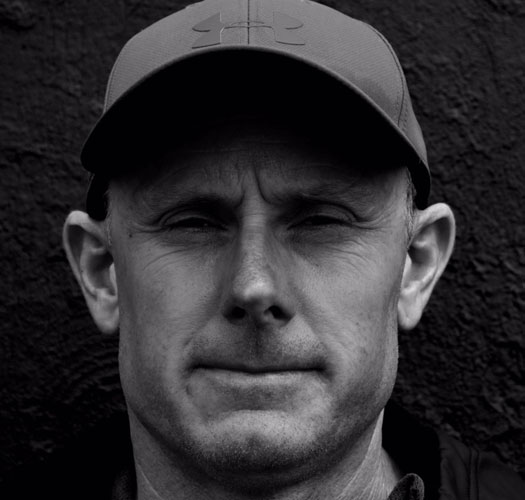 Brad Wilbourn
Brad was born and raised in Southern California. His diving career began as a commercial hard hat diver in 1994. After working in the industry for a couple years, he decided to focus on the recreational side of diving and began teaching in 1996. He and his wife moved to Catalina island in Southern California where he taught diving and ran dive boats there for 4 years. In 2001 Brad became a police officer in Southern California. He quickly became an integral part of the Dive Unit for the Department.
Read More
The last 10 years of his police career was spent in charge of all maritime and dive related missions, as well as instructing at the only training center for maritime law enforcement on the west coast of the United States. After completing 20 years of service, Brad retired and moved to Cayman Brac with his wife to enjoy the slower paced life and share the wonders of the underwater world in the Brac. He currently holds a 500 ton U.S. Coast Guard captains license, and is a PADI Master Instructor and PADI Master Free diver Instructor.
Read Less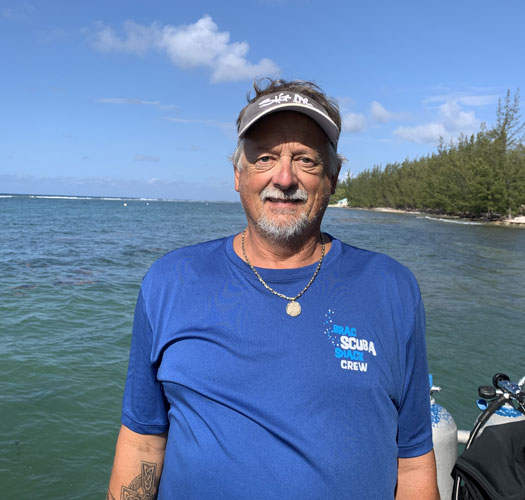 Harvey Sizemore
Harvey is originally from Arkansas and begin diving in 1990 on Cayman Brac. He fell in love with the local people as well as the underwater world on the island. He is a avid Go Pro videographer and enjoys showing the sail fin blenny to all who want to see the little ones show off. He and his wife call Cayman Brac home but still have a home in Arkansas were he enjoys duck hunting and spending time with his sons.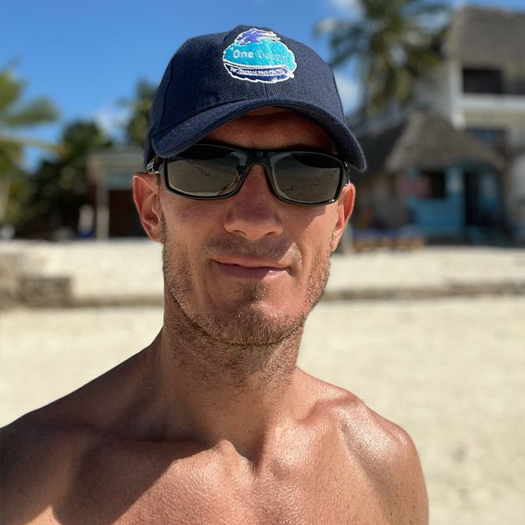 Nico Cesaroni
Nico is deeply passionate about marine life and conservation, talking about and sharing which with other divers result natural behind his shy temperament. He has adopted scuba diving as his way of life since his first dive in 2010 in South-East Asia. A few months later, he was a scuba instructor, and a new life began. He decided to live his passion on a daily basis and explore as many tropical destinations as possible. He's been diving, teaching scuba and managing dive operations ever since in the best destinations in the world from Indonesia to Mexico by way of Thailand, Sri Lanka, Maldives, Seychelles, Egypt, Tanzania, South Africa, Greece, Germany, France, Bahamas, Belize, Honduras, Costa Rica, Turks and Caicos, Panama and now here in Cayman Brac!
Read More
He has become an avid underwater photographer over the years and his favourite critters to shoot are the tiniest and weirdest ones. You can find his humble shots on his Instagram account @ocean.nico. In 2019, he took time out and co-founded a diving blog where he wrote articles on specific scuba topics and destinations he visited and learnt about online marketing. The following year, having missed being underwater every day and living on remote islands, he was back in teaching status. When he is not underwater, editing photos or on a basketball court, Nico enjoys sharing cocktails he learnt to make when he was a cocktail bar manager and a mixologist in Madrid in the mid 2000's with his friends. As a French native, he obviously likes cooking, eating cheese and drinking wine.
Read Less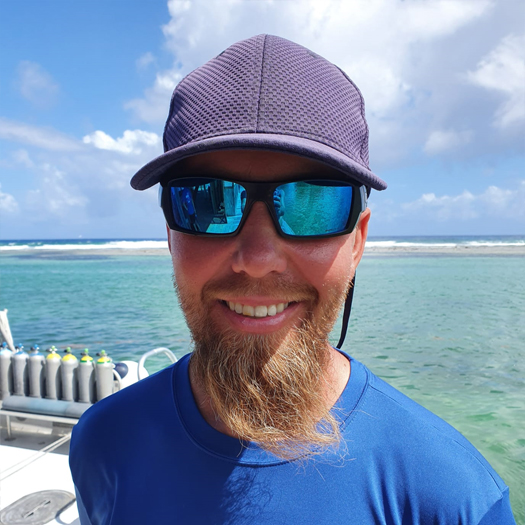 Ragnar Arnarsson
Ragnar was born and raised in Iceland. While backpacking through Central America in 2014 he got his first taste for scuba diving in Guatemala. Diving quickly became his favorite thing in the world and on he went to Utila, Honduras, where he became a divemaster and later an instructor. He's called Cayman Brac home since 2018. Ragnar sometimes refers to himself as a fake viking due to how easily he gets cold.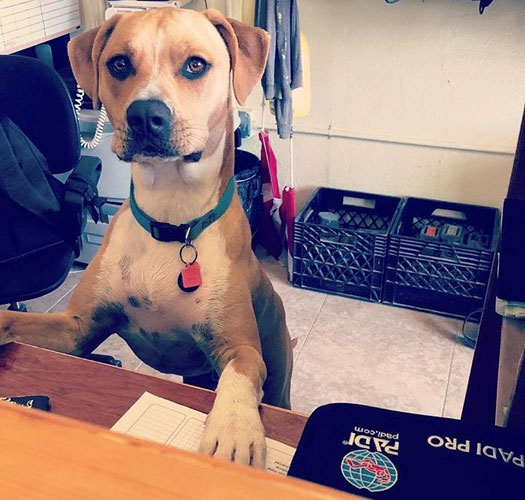 Zeus
Zeus, the only native Bracker working for Brac Scuba Shack and possibly the youngest recruit in the diving industry. He melted diver's hearts at the tender age of 6-weeks old, and is now known as 'The Boss'! We can guarantee that you will be greeted with a warm hug and kiss (aka lick), when visiting the Brac Scuba Shack!